Faculty of Pharmaceutical and Biochemical Sciences
Registry and Archive Office (Kardex)
---
STUDY PLANS

---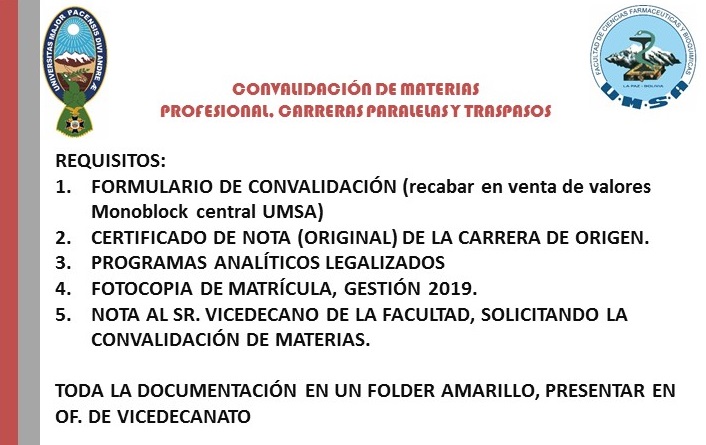 ---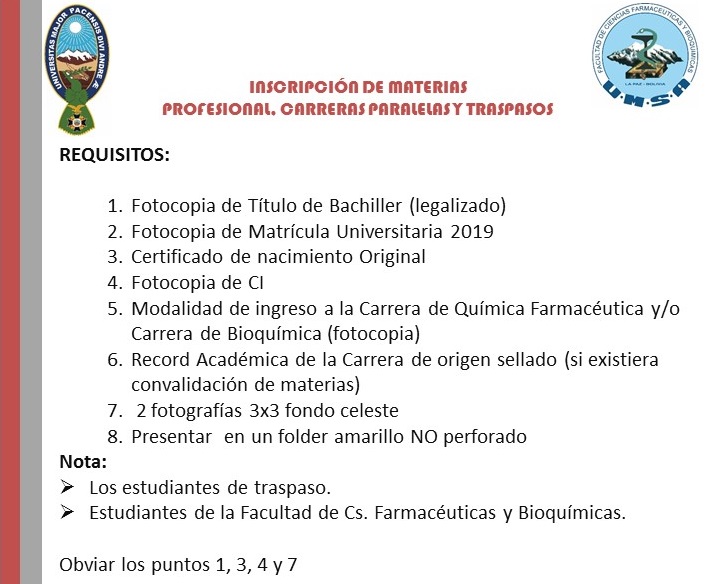 RSOLE CERTIFIED RESOLUTION
C O M U N I C A D O
A: STUDENTS OF THE RACES OF

    PHARMACEUTICAL CHEMISTRY
    BIOCHEMISTRY
IT IS COMMUNICATED TO ALL STUDENTS OF THE FACULTY, THAT FROM THE MONTH OF JANUARY 2017 THE SINGLE CERTIFICATE OF GRADES WILL BE APPLIED (RES. Of HCF 067/2016).
THE ISSUANCE OF CERTIFICATES OF NORMAL NOTES, ARE ONLY ACCEPTABLE FOR PROCEDURES OF:
MATTER VALIDATION
CAREER TRANSFER
CARRERA REINSCRIPTION
IN SUCH MEANING, THE REGISTRATION AND ARCHIVE OFFICE WILL ONLY ATTEND THE ISSUANCE OF CERTIFICATES OF NOTES TO STUDENTS WHO HAVE GRADED:
CAREER OF CHEMISTRY PHARMACEUTICAL MANAGEMENT 2015 1st and 2nd semester)
BIOCHEMISTRY MANAGEMENT 2015
IT IS RECOMMENDED TO TAKE DUE NOTICE TO THE STUDENTS, NOT TO EXPOSE AN UNNECESSARY EXPENSE IN THE ACQUISITION OF CERTIFICATES OF NOTES.


---
REQUIREMENTS FOR CERTIFICATE PROCEDURES