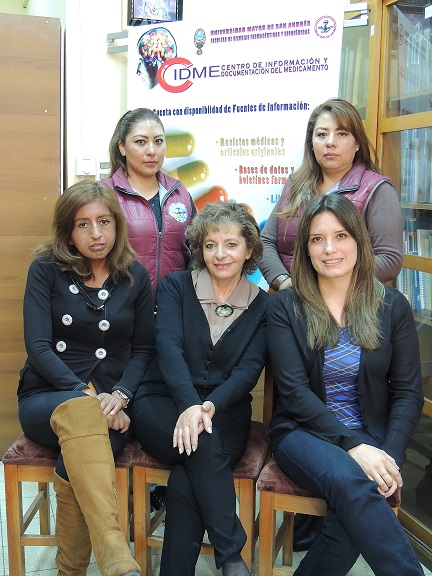 BRIEF HISTORICAL REVIEW AND CREATION RESOLUTION
In June 1988, the project to create the Medication Information and Documentation Center (CIDME) was approved in the Latin American medicine information centers workshop in Caracas-Venezuela. A year later, in August the agreement was signed with the Ministry of Health and Social Welfare, the World Health Organization and the Faculty of Pharmaceutical and Biochemical Sciences of the UMSA, approving its creation; Thus, on October 10, 1989, the Drug Information and Documentation Center (CIDME) under the Faculty of Pharmaceutical and Biochemical Sciences of the Universidad Mayor de San Andrés was created at the initiative of Dr. Teresa Rescala Nemtala.

In 2010, the RedCIMLAC (Network of Drug Information Centers of Latin America and the Caribbean) was consolidated with the support of the Pan American Health Organization (PAHO) with the members of some drug information centers (CIM) ). The CIDME was one of the CIMs that was part of the RedCIMLAC since its inception and is thus actively involved, where possible, to cooperate in the development of the activities carried out by the Network and also be cooperated in strengthening of the activities that the center develops.


 MISSION AND VISION OF THE UNIT
MISSION
The Medication Information and Documentation Center has the purpose of providing scientific and technical support in relation to the medication, both to the health team and to the general population, through reliable, independent and updated sources of information; with the final objective of optimizing the pharmacotherapeutic act and disseminating the rational use of the medicine
VIEW
To become a National and International Reference Center for medication information and raise awareness about the Rational Use of Medicines in health professionals, the general population and in Bolivia's Health Policies.
RESEARCH LINES :
               Pharmaceutical Chemistry
               Medication Information
PURPOSES AND OBJECTIVES

General objective
Promote the rational use of medicines through technical and scientific, objective, updated, timely and relevant information duly processed and evaluated.


  Specific objectives
Produce and distribute informational material on relevant health problems associated with pharmacotherapy, aimed at professionals and health workers and the community in general.

Support the solution of specific problems (therapeutic / clinical, biopharmaceutical, pharmacodynamic, regulatory, academic) related to the use of medications in a particular patient or in the performance of staff activities or health services.

Participate in the processes of education and information on medicines and health care to the community and health professionals.

Provide technical and documentary support for clinical or collective decisions at different levels of health and / or government care related to pharmacotherapy.